What do we do?
The Foundation has established annual grants in Research/Lecturing at the University of Sydney Dental Faculty.
Research Fellows

Past Researchers:

Dr Shalinie King: Cardiovascular disease and oral health pilot study
Dr Shinika Nanayakkara: End of project report
Eylul Erguven: Analysis of Cross-talk Between Human Osteosarcoma and Endothelial Cells
Jinlong Gao: Summary Characterization of a hemophore-like protein from Porphyromonas gingivalis
Kerstin Angner: Microbial indicators related to the management of advanced dentinal caries

Talal Salami: The role of the human lateral pterygoid muscle in temperomandibular disorders
Building Of The Bela Schwartz Lecture Theatre
The Foundation has donated to the construction of the "Bela Schwartz Lecture Theatre" at the Oral health Faculty building at Mons Road Campus, at Westmead hospital. This lecture theatre was developed as the rest of the building was refurbished. Adjacent to it is a dental chair simulation lab, capable of housing 55 students at the same sitting. The lecture theatre holds a similar amount of students, thereby allowing briefing of those students using the simulation laboratory.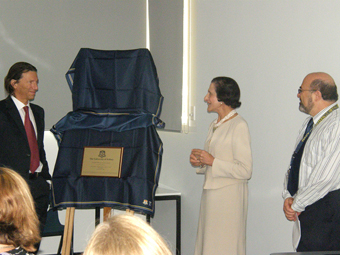 Dr. Jerry Schwartz at the opening of the Bela Schwartz Lecture theatre in a ceremony attended by University of Sydney Chancellor Prof. Maree Bashir and Dean Eli Schwarz